Model Reliability
The confidence of the models' capacity to simulate the changing climate includes several steps:
Comparing observed and simulated past climate variability (i.e. quantification of model uncertainties) and analyzing causes of observed variations
Performing multi-model reconstructions of past climate and by various future greenhouse gas emission and air- and riverborne nutrient load scenarios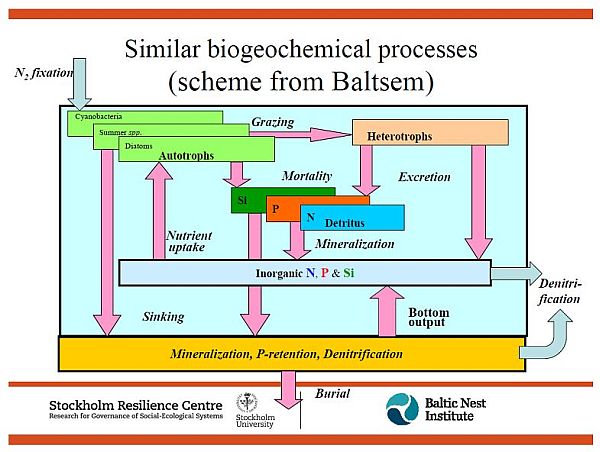 Cost functions
Shown below are vertical profiles of cost-function values for the ensemble averages (1970-2005) of salinity, temperature, oxygen, phosphate, nitrate at 6 stations (Anholt E, BY5, BY15, LL07, SR5, see map) ranging from the Kattegat in the west to the Bothnian Bay in the north. Light and dark blue colors (0-1) indicate good results, green and yellow colors indicate reasonable (1-2), while orange and red colors indicate poor results (>2).
The cost function is a quick tool to assess the quality of model results compared to data and they give good indications to where more efforts are needed.