The Baltic Sea catchment basin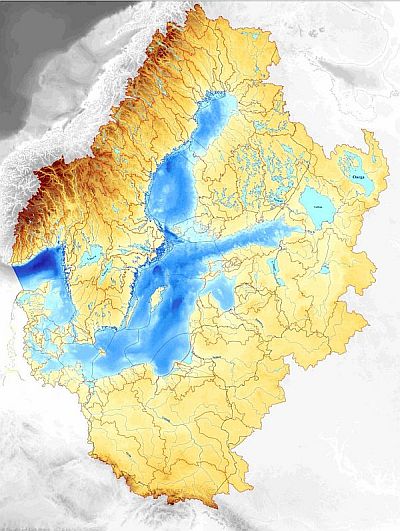 The Baltic Sea Catchment Basin covers an area of 2.13 Million km², which is almost 20% of the European continent. 85 Million people in 14 countries live in the basin, which streches from the temperate, densely populated South to the subarctic rural North. The south is heavily industrialized, and intensive land use is common. The basin covers heterogeneous terrain including variable land surfaces with mountains, numerous rivers and lakes, with considerable seasonal, interannual, decadal and long-term variations, and covers a wide range of human impacts and vegetation zones.
The BALTEX area ranges from a mild and humid mid-latitude climate to a subarctic winter climate. Frequent and complex synoptic-scale cyclonic activity and subsynoptic-scale depressions with sometimes rapid developement over the Balic Sea are characteristic. Winter time advection of arctic air masses may lead to excessive surface fluxes and deep convection with heavy snowfall over much of the area. Snow accumulation and melting, and sometimes higly variable rainfall patterns determine the river runoff conditions in the area. The Baltic Sea itself is a unique brackish sea with complex hydrography and variable seasonal sea-ice conditions. It is one of the best-studied oceans in the world.
Its annual net water discharge to the World Ocean through the Danish Straits is comparable to that of major river systems such as the Mississippi River.
For an extensive description of Baltic Sea catchment subbasins, click here
(Figure: Copyright Swedish Meteorological and Meteorological Institute)