---
Scope
Idea
The scientific themes of the Gulf of Finland Year 2014 (bio- and geodiversity, maritime spatial planning, maritime safety especially in winter conditions, fish and fisheries and ecosystem health) fit very well with the Grand Challenges of Baltic Earth programme, as they relate to natural and anthropogenic impacts on the biogeochemistry and ecosystem of the Gulf of Finland. In both programs, modelling is an important tool to study different processes and the linkages between them. The workshop will be organized back-to-back with the trilateral Finnish-Estonian-Russian Forum for the investigations of the Gulf of Finland ecosystem.
Issues to be covered
To assess our common knowledge of modelling various processes in the Gulf of Finland, Baltic Sea, a joint Baltic Earth-Gulf of Finland Year 2014 Workshop is proposed to cover the following modelling issues:
the role of physical forcing on the GoF ecosystem
biogeochemical modelling of the Baltic Sea (Gulf of Finland)
effects of climate change on (Gulf of Finland) ecosystems
eutrophication and cost-effective nutrient load reduction
natural and anthropogenic hazards like coastal erosion, cyclonic storms, oil spills and other accidents and their impacts on ecosystems
Linkage to the Gulf of Finland Declaration
An important goal of the workshop is to inform decision-makers of our main knowledge gaps concerning the listed themes, and to discuss with them possible actions to be carried out to ensure a sustainable development of our Gulf of Finland in the future. Now is a suitable time for such a dialog. One of the key results of the Thematic Year will be the Gulf of Finland Declaration, signed by the Ministers of Environment of Finland, Russia and Estonia in early 2015. In the Declaration, the most important actions to substantially and quickly improve the state of the Gulf will be listed. It is important that the scientific opinion of the entire Baltic Sea research community will be taken into account. The participation of representatives of the involved Ministries in this workshop is envisaged.
The Workshop
At the Baltic Earth Gulf of Finland Workshop, there will be invited keynote lectures, breakout working groups on different topics, and a summary section. Posters presentations are invited. The workshop on Monday 24 and Tuesday 25 November will be organized back to back to the joint Finnish-Estonian-Russian Trilateral Forum which is a two-day event (26-27 Nov). A similar forum could be organized, also in connection of the Trilateral Forum in 2015, with the possibility to submit related manuscripts to a special issue in Journal of Marine Systems.
---
Registration

There will be no fee but registration is compulsory by 3 November 2014.
Registration Deadline: 3 November 2014
If you are having problems using the registration form (some users of Internet Exploreres have experienced problems), please use Firefox or Chrome, or simply register by E-Mail to balticearth@hzg.de, stating your name and affiliation, and whether you are presenting a poster.
---
Call for Posters
It will be possible to present a poster at the workshop. Please send a poster abstract to the International Baltic Earth Secretariat at balticearth@hzg.de.

The abstract may be up to 500 words (as Word or Open Document format, do not use pdf), and may include one figure (please as eps or high resolution jpg or tif). A workshop booklet including abstracts will be published. The workshop is not open for oral presentations, only for poster presentations.

Poster Abstract Submission Deadline: 3 November 2014
---
Venue of the workshop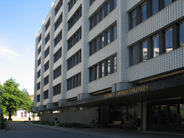 The workshop will take place at the Finnish Environment Institute (SYKE) in Helsinki, Finland..
Click here for address and travel information including a list of nearby Hotels.