BALTEX Meteorological Data Centre
The BALTEX Meteorological Data Center (BMDC) is a component of the international Baltic Sea Experiment BALTEX as a part of the Global Energy and Water Cycle Experiment GEWEX of the WCRP (World Climate Research Programme). From 1994 to 2002, the BMDC was operated by the German Meteorological Service (Deutscher Wetterdienst, DWD) as a part of the Business Area Research and Development, Department Climate and Environment. Its establishment was supported by funds of the Federal German Research Ministry (BMBF). The BMDC is now located at the World Data Center for Climate (WDCC) at the Max-Planck-Institute for Meteorology in Hamburg.

The BALTEX-MDC acts as a service center concerning the supply of project related meteorological data of the BALTEX areas BAMAR (Baltic Sea Model Area) and BACAR (Baltic Sea Catchment Area) for defined time periods to all national and international institutions participating in the research project. Data delivered by the BALTEX countries on a voluntary base are checked in the BMDC for minimum quality standards and put into uniform standard formats. Data delivery has ceased since 2002.

The following data are available at BMDC:

Climate
Evaporation
Precipitation
Radiation
Snow depth
Soil moisture
Soil temperature
Synop.

For more information on available data click here.
In order to get data access, you need apersonal account which is available via the
CERA Portal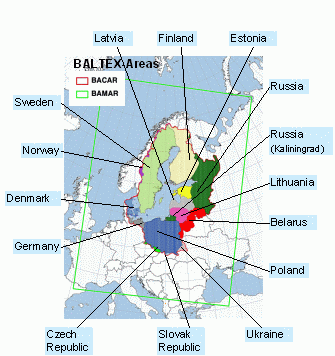 Contact:
Dr. Michael Lautenschlager
World Data Center for Climate
Deutsches Klimarechenzentrum DKRZ GmbH
Bundesstrasse 45 a
D-20146 Hamburg
Fax: +49 (40) 460094-106
E-mail: data(at)dkrz.de (with Subject "WDCC: ……")
http://www.dkrz.de/
http://www.wdc-climate.de/